Duck roast
Cuisine Style
South Indian
Description
A tempting roast duck recipe which is delicious and easy to make, served with potatoes and port gravy, this duck recipe goes down a treat at Christmas.
Ingredients
Duck - 2 kg Coriander powder - 3 tbsp Red chilly powder - 11/2 tbsp Black pepper(Kurumulaku) - 1 tsp Ginger - 2 tbsp (2 inches) (cut into thin slices) Whole red chilly(Kollamulaku)-10 nos Garam masala - 2 tbsp Turmeric powder - 1 tsp Curry leaves - 2 big stems Salt - As reqd Onion(medium) - 4 nos (cut into thin slices) Coconut oil - .5 cup Hot water - 1.5 cups For garnishing: Potato(small) - 6 nos(cooked and fried)(whole) Baby carrots(cooked) - 6 nos Cabbage leaves - .75 of one(uncooked)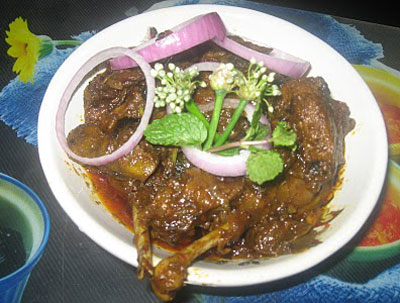 Preparation Method
1)Skin and cut the duck. Wash and soak them in salt and turmeric and keep aside for a while. 2)Heat .5 of coconut oil in a pan. 3)Add peppercorns(whole) and the onion slices. Saut them until it becomes transparent. 4)Mix together the coriander powder, chilly powder, garam masala,turmeric powder and salt along with little water. 5)Add the above paste and saut the ingredients until the oil begins to separate. 6)Crush the whole red chillies to flakes and add them to the masala. 7)Add curry leaves. 8)Take the meat after washing the turmeric off and drain. 9)Add the meat, lower the heat, cover and cook until the water separates. 10)Pour about 1.5 cups of hot water, cover and cook until meat is cooked and all the water disappears. 11)Uncover and cook for another 10 minutes, if there is any water left. 12)On a flat frying pan, pour .5 cup of coconut oil and fry the meat until brown in colour and all the extra water disappears or until the meat is almost dry. 13)Take a flat dish, preferably a round large pie dish. 14)Arrange the cabbage leaves covering the entire dish and arrange the meat pieces in the center leaving a little space between dish and the meat. 15)Arrange the fried potatoes and carrots around the meat.
To Serve
6
Prepaired By
Gibi Foji