Chicken Curry
Cuisine Style
South Indian
Description
Chicken curry is a common delicacy in South Asia, Southeast Asia, as well as in the Caribbean (where it is usually referred to as curry chicken). A typical South Asian curry consists of chicken stewed in an onion and tomato-based sauce, flavoured with ginger, garlic, chili peppers and a variety of spices, often including turmeric, cumin, coriander, cinnamon, cardamom and so on.
Ingredients
1) Chicken: 1kg 2) Onion: 1 big 3) Garlic: 10-12 flakes 4) Ginger: 1 medium size 5) Green chily: 4 no 6) Currey leaves : few 7) Vinegar: 1tsp(to taste) 8) Corriander Powder: 1.5 dsp 9) Chilli Powder: 1 tsp 10) Turmeric Powder: 1.5 tsp 11) Black Pepper powder: 1.5 tsp 12) Coconut oil: 1.25 cup 13) Garam Masala: 1 tsp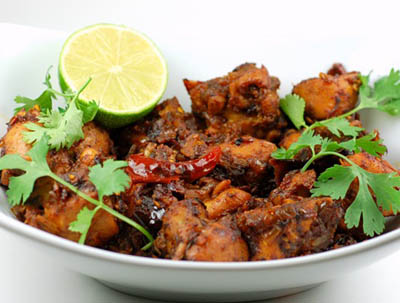 Preparation Method
1) Heat oil in a pan. 2) Soak chili powder, turmeric powder and coriander powder Saute onion,green chily,garlic and ginger. 3) Add soaked masala. Saute till the raw smell disappears. 4) Add chicken pieces,vinegar and saute for 2 minutes. 5) Add potato and salt Pour sufficient water. Cover the pan and cook to a thick gravy. Add few currey leaves. serve hot.
To Serve
5
Prepaired By
Gibi Foji