Semiya Payasam
Cuisine Style
South Indian
Description
Semiya payasam is a Kerala dessert dish made on special occasions like Onam, Vishu or even for birthdays.
Ingredients
1) 100 g broken Vermicelli (.25 lb) 2) 1 dsp ghee/clarified butter 3) 2 cups water 4) 3 cups fat free milk 5) .5 cup sweetened condensed milk 6) .5 cup sugar 7) .25 tsp cardamom powder 8) 12 cashew nuts 9) 1 tbsp raisins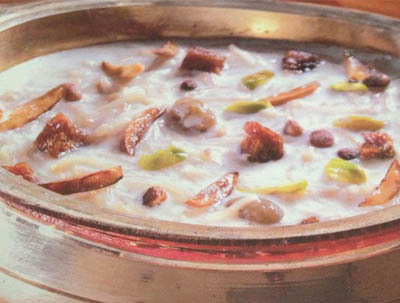 Preparation Method
1) Heat ghee in a pan and fry the cashewnuts till brown, fry the raisins till plump and keep aside. 2) In the same ghee, saute the vermicelli till light brown and keep aside. 3) Bring the water to a boil in a deep pan. Add the fried vermicelli to the pan and cook till half the water is gone. 4) Add the milk and sweetened condensed milk and sugar and stir to combine. 5) Simmer on medium low till the vermicelli is soft. Add the cardamom powder and stir well. 6) Garnish with fried cashew nuts and raisins.
To Serve
5
Prepaired By
Gibi Foji