Prawn Curry
Cuisine Style
South Indian
Description
This prawn curry is the perfect blend of spicy,with its creamy coconut sauce, is typical of the south-west Indian region and it features a home-made spice paste. If you don t have a mortar and pestle you can do it in a food processor.
Ingredients
1) (400 g)large fresh peeled prawns 2) 2 tablespoons coriander seeds 3) .5 tablespoon cumin seeds 4) 1 tablespoon paprika 5) .5 teaspoon ground turmeric 6) .5 teaspoon cayenne pepper 7) 4 cloves of garlic, peeled and crushed 8) 1 piece of ginger ( 1 inch - 2.5 cm peeled and grated 9) 14 or (400 g) tin of coconut milk, shaken 10) 1 tablespoon tomato pure 11) 1 red pimento, deseeded and cut very small 12) 1 lime 13) salt to taste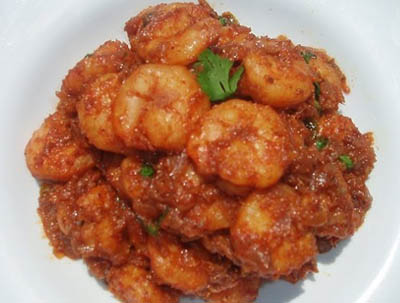 Preparation Method
1) Grind the coriander and cumin seeds fine roast them in a large frying pan adding one by one the other spices and the pimento as well. 2) now add the grated ginger and the crushed garlic stir in the coconut milk, tomato pure and salt 3) simmer slowly for 10 minutes until sauce reduces. 4) add the prawns and simmer stirring from time to time until prawns change to pink. 5) squeeze lime juice over the curry serve with long grain rice mixed with wild rice, warm naan bread and a bowl of deseeded cubed cucumber mixed with yogurt.
To Serve
4
Prepaired By
Valsala Ragavan