Fish Fry
Cuisine Style
South Indian
Description
Fish fry is one of the easiest and quick recipe. Needs very basic ingredients and gets ready in jiffy. A perfect recipe for crisp lovers!
Ingredients
1) Fish (Any,I used King fish) - .5 Pound 2) Chili Powder - 1 - 1.5 Tbsp 3) Turmeric Powder - A Little 4) Salt - As Per Taste 5) Ginger-Garlic Paste - 1 Tbsp each 6) Oil - For Frying(As Required)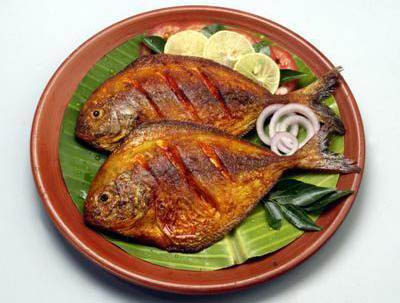 Preparation Method
1)Cut,clean and wash the fish. Marinate it with chili powder, salt, turmeric, ginger and garlic paste.Keep aside for .5 hour. 2)In a non stick pan,pour 2-3 Tbsp of oil.Once the oil gets hot,put the fish pieces and fry well on either side adding little by little oil whenever required .While frying top it with some curry leaves and sliced onions.
To Serve
5
Prepaired By
Valsala Ragavan