Naadan Mathi Puliyum Mulakum
Cuisine Style
South Indian
Description
Naadan Mathi Puliyum Mulakum is a very simple traditional kerala style fish curry which is very much famous among the keralites.
Ingredients
1) Sardine/Mathi-150g 2) Red Chilli powder-1 tsp 3) Turmeric Powder-.5 tsp 4) Paprika powder-.5 tsp 5) Ginger-25g (Pounded) 6) Green chillies-2(slitted) 7) Tomato-2 medium(cut into small pieces) 8) Curry leaves-1 sprig 9) Tamarind paste-.5tsp( or 1 small lemon size tamarind soaked in hot water and the pulp squeezed out) 10) Water-as required 11) Oil-1tbsp 12) Salt-1s required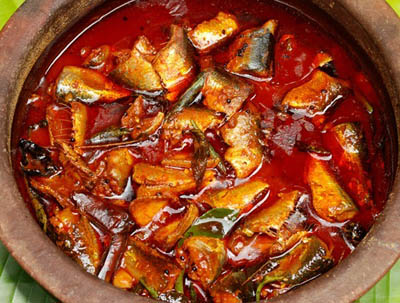 Preparation Method
Clean the sardine and make some small gashes on it. Take a small deep bottomed pan.(Traditionally this is cooked in a mud pot),Add chilli powder, turmeric powder,paprika powder, ginger, green chillies,tomato, tamarind paste gently mix this well with the sardines.Add sufficient water to cook the fish.Cover it with a lid. Cook this on medium flame till the fish is cooked and the whole mixture becomes of sauce like consistency.Now add curry leaves and oil. Cook it for another couple of minutes.
To Serve
3
Prepaired By
Valsala Ragavan