Karimeen Pollichathu
Cuisine Style
South Indian
Description
Karimeen Polichathu is a dish made from Karimeen (Pearlspot Fish). It is a spectacular dish present in the southern state of Kerala in India. It is a first class dish that tastes superb and the fish just seems to just melt in your mouth.
Ingredients
Karimmen-6 ginger,garlic pods chilly powder pepper powder turmeric powder curry leaves oil coconut milk salt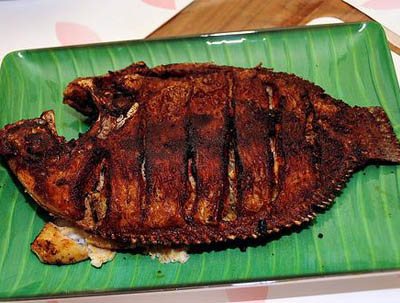 Preparation Method
Grind ginger, garlic pods, chilly powder, pepper powder, turmeric powder, curry leaves and salt for making a fine paste.Marinate the fish with the above paste for about one hour. Coat few heated plantain leaves with oil.Place the marinated fish over it and put the entire thing in a frying pan.Cover and cook it over low flame till it is done. Take another frying pan and heat oil, saute chopped onions, ginger, green chillies and curry leaves in it.Place the cooked fish without the plantain leaves in the above pan and coat it well with the sauteed masala. Combine coconut milk and mix well.Simmer for few minutes, until all the water gets evaporated.Wrap them in the plantain leaves and serve.
To Serve
6
Prepaired By
Rissa Shalik