Green Garlic Sauce
Cuisine Style
Chinese
Description
This tongue tickling sauce is a refreshing combination of coriander, garlic, green chillies and vinegar.
Ingredients
1 tbsp coriander (dhania) , finely chopped 1 tsp green chillies , finely chopped 2 tbsp fresh green garlic (hara lehsun) , finely chopped 1 tbsp lemon juice 1 tbsp powdered sugar 2 tsp vinegar salt to taste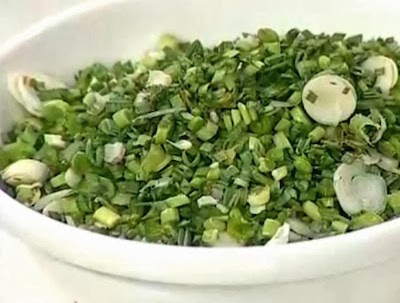 Preparation Method
1. Mix all the ingredients together in a bowl. 2. Adjust the sweetness as required. Store refrigerated in an air-tight container. 3. Use as required. Tips:- If fresh green garlic is not available use 1 tablespoon of finely chopped garlic instead and add 1 more tablespoon of chopped coriander.
Prepaired By
Valsala Ragavan