Chinese Steamed Bread
Cuisine Style
Chinese
Description
Chinese steamed bread, easy to make, this bread tastes slightly sweet.
Ingredients
500 gms plain flour (maida) 10 gms dry yeast 20 gms fresh yeast 2 1/2 tsp sugar 1 tsp salt 1 tbsp butter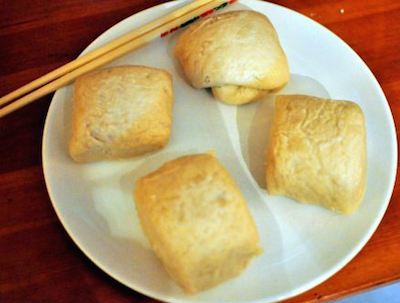 Preparation Method
1. Sieve the flour. Make a well in the centre. 2. Add the dry and fresh yeast and sugar. Pour warm water over it and wait for 5 minutes until froth comes on top. 3. Add the salt and butter and make a soft dough by adding more warm water. 4. Knead the dough very well for 5 to 7 minutes. 5. Cover the dough and keep it for at least 1/2 hour till it doubles in size. 6. When double in size, knead the dough again for 1 minute. 7. Divide the dough into 16 parts, make small balls and put them on greaseproof paper. 8. Leave the rounds aside for 20 to 25 minutes or till they are double in size. 9. Steam the rounds for at least 15 minutes. 10. Serve hot.
Prepaired By
Valsala Ragavan