Date and Sesame Wontons
Cuisine Style
Chinese
Description
These sweet wontons originate from the Cantonese region, and traditionally stuffed with walnuts and dates. In this recipe, dates are mixed with butter, brown sugar and toasted sesame seeds. You could add in chopped walnuts too. These are stuffed into wonton wrappers scrunched into money bags and fried in hot oil. Coat them in powdered sugar and eat them hot. And while serving it after a Chinese meal, serve a few of them alongside a scoop of vanilla ice-cream. It tastes delicious!
Ingredients
20 wonton wrappers:- For The Stuffing:- 1/2 cup chopped dates (khajur) 1/4 cup sesame seeds (tip) 1/4 cup brown sugar , 1 tbsp butter Other Ingredients:- 2 tbsp powdered sugar oil for deep-frying To Serve:- vanilla ice-cream.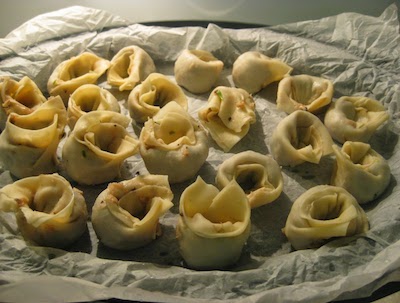 Preparation Method
For the stuffing:- 1. Toast the sesame seeds on a slow flame for 2 to 3 minutes or till they turn light brown in colour. Keep aside to cool. 2. Blend the sesame seeds in a mixer to a coarse mixture. 3. Combine the sesame seed mixture, dates, brown sugar and butter in a deep bowl and mix well. Keep aside. How to proceed:- 1. Place a wonton wrapper on a flat, dry surface and place 1 tsp of the stuffing in the centre. 2. Bring the sides in the centre, twist and seal like a money bag. 3. Repeat steps 1 and 2 to make 19 more wontons. 4. Heat the oil in a non-stick kadhai and deep-fry the wontons, a few at a time, on a medium flame till they turn golden brown in colour from all the sides. 5. Allow them to cool slightly and sprinkle powdered sugar evenly on top of the wontons. 6. Serve immediately with vanilla ice-cream.
Prepaired By