Fried Bananas
Cuisine Style
Chinese
Description
An exotic way to prepare bananas. This is practically a national snack among the migrant populations in South East Asia and is traditionally served with scoops of coconut ice-cream.
Ingredients
4 bananas, peeled and cut into halves, lengthwise , To be mixed into a batter 4 tbsp plain flour (maida) 4 tbsp rice flour (chawal ka atta) 1 tbsp cornflour pinch of baking powder 1/2 cup water a pinch of salt Other ingredients :- oil for deep-frying To serve:- 2 tbsp brown sugar vanilla ice-cream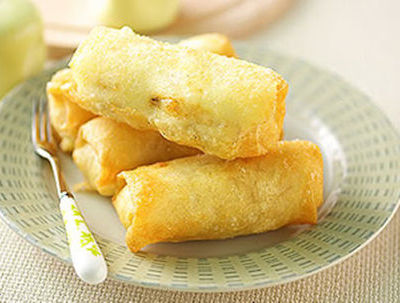 Preparation Method
1. Mix the flour, rice flour, cornflour, baking powder and salt with 1/2 cup of water into a smooth batter. 2. Dip the banana halves in the batter and deep fry in oil until golden brown. Drain on absorbent paper. 3. Sprinkle with the brown sugar and serve immediately with vanilla or coconut ice-cream.
Prepaired By