Honey Noodles with Vanilla Ice
Cuisine Style
Chinese
Description
Honey noodles with ice-cream, darsaan as this dish is popularly known is a creative, fun sweet dish that makes up for the lack of a wide variety in chinese desserts. Fried noodles are tossed honey and sesame seeds and relished with ice cream or sometimes with fresh fruit puree - try mango puree during summers. It is crunchy, sweet and extremely comforting. Try this one if you have very little time, and still want to whip up an amazing dessert. Serve it immediately, you definitely wont be disappointed!
Ingredients
For The Noodles:- 4 samosa pattis cut into thin strips, oil for deep-frying. For The Honey Sauce:- 1 tbsp sugar 1 tbsp honey 1 tsp sesame seeds (til). For Serving:- vanilla ice-cream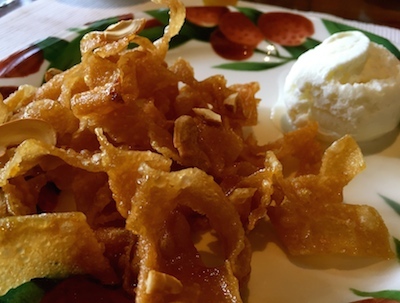 Preparation Method
For the noodles:- Heat the oil in a broad non-stick pan and add the samosa patti strips and fry on a medium flame for 2 to 3 minutes or till they turn brown in colour., Drain on absorbent paper and keep aside. For the honey sauce:- Heat 1 tbsp of water in a broad non-stick pan , add the sugar and cook on a medium flame for 1 minutes, while stirring occasionally., Add the honey and sesame seeds, mix well and cook on a medium flame for 1 minute, while stirring occasionally., Serve immediately. How to proceed:- Transfer the noodles on a serving plate, pour the honey sauce immediately over them and serve with vanilla ice-cream.
Prepaired By