Crispy Noodles
Cuisine Style
Chinese
Description
An easy way to make Crispy Noodles at home using a dough of plain flour. Note that these noodles are not to be pressed in a chakli maker like sev, but cut into ribbons and deep-fried. Crispy Noodles are perfect for use in dishes like Honeyed Noodles with Vanilla Ice-cream.
Ingredients
1 cup plain flour (maida) 1/2 tsp salt 2 tsp oil plain flour (maida) for rolling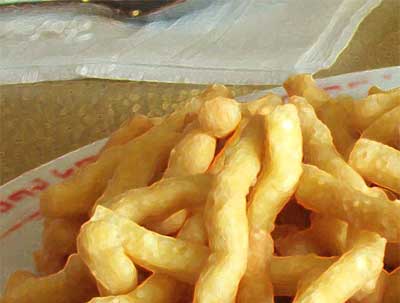 Preparation Method
1. Sieve the plain flour and salt together in a deep bowl and knead it into a soft dough using approx. 1/2 cup of water. 2. Add the oil and knead again. 3. Cover with a muslin cloth and keep aside for 30 minutes. 4. Divide the dough into 6 equal portions. 5. Roll each portion into a 150 mm. (6?) diameter circle using a little plain flour for rolling and cut into 10 equal long strips. 6. Heat the oil deep fry in hot oil till they turn golden brown in colour from all the sides. 7. Drain on an absorbent paper and use as required.
Prepaired By
Valsala Ragavan