Chinese Egg- Fried Rice
Cuisine Style
Chinese
Description
Unlike some hurried versions in which the eggs are placed in one chunk above the fried rice, here they are first cooked like an omelet, which is then cut into small pieces and mixed with the rice, veggies and soy sauce, to make a lip-smacking meal-in-a-bowl fried rice. This Chinese Egg Fried Rice is also easy to serve as the egg pieces are uniformly distributed.
Ingredients
1 cup rice (chawal) 2 eggs 1/2 cup chopped and par-boiled french beans 1/2 cup chopped and par-boiled carrots 1/2 cup chopped capsicum 1/2 cup chopped celery (ajmoda) 1 cup chopped spring onion whites and greens 1 tbsp soy sauce 1 tbsp oil salt and freshly ground black pepper (kalimirch) to taste oil for greasing For Serving:- chillies in vinegar chilli sauce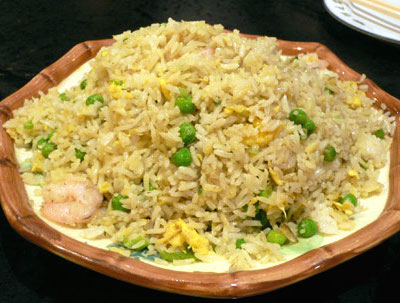 Preparation Method
1. Boil the rice. Each grain of the cooked rice should be separate. Keep aside. 2. Whisk together the eggs, 2 tbsp of water , salt and pepper and whisk well. 3. Grease a non-stick pan and pour the egg batter over it and cook on a medium flame for 2 to 3 minutes or till both the sides are lightly browned. Allow the omelet to cool slightly and cut into bite-sized pieces and keep aside. 4. Heat the oil in a wok or a kadhai, add all the vegetables and saute on a medium flame for 2 to 3 minutes. 5. Add the rice, omelet pieces, soya sauce and salt, mix well and cook on a medium flame for 2 to 3 minutes, while stirring occasionally. 6. Serve immediately with chillies in vinegar and chilli sauce.
Prepaired By
Valsala Ragavan